Many people in Bedale give generously of their time and talents for the benefit of the Bedale community. Some people however give a little bit more than most. Bedale Community Award is a way that the Town Council seeks to recognise and reward those local residents who have given more than most, to the town and its people, over a significant period of time.
During the Annual Parish Meeting, which is usually held on the first Tuesday in May, recipients of the Community Award are presented with a framed certificate and a citation outlining the service that they have given to the town.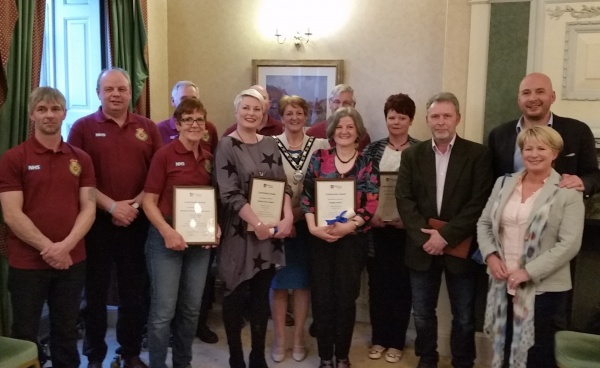 2017 Award recipients (Bedale Community First Responders, Librarians; Maggie Leathart & Nathalie Garner-Ibbitson, Manager of The Millings; Sandra Anderson) Mayor of Bedale Cllr. Mrs. Christine Mollard and Guest Speakers: Mr Nigel Parkin - Upstairs at Institution and Karl & Cathy Mason - Masons Yorkshire Gin
Nominations
If you would like to nominate someone who you believe has earned the right to receive the award through the service that they have given to the community in Bedale, please complete and submit the online form.

The closing date for nominations is 31st March.