Weekly Tuesday Market
Tuesday is Market Day in Bedale and it has been for over 750 years! Why not come and experience Bedale's fine georgian-fronted, cobbled market place filled with the stalls and the sounds of Bedale Market. The market hosts a range of local suppliers offering fresh fish, fruit and vegetables, locally baked bread, household supplies, clothes, cards, cakes and other goods to attract the shopper. Bedale Market is truly at the heart of the community.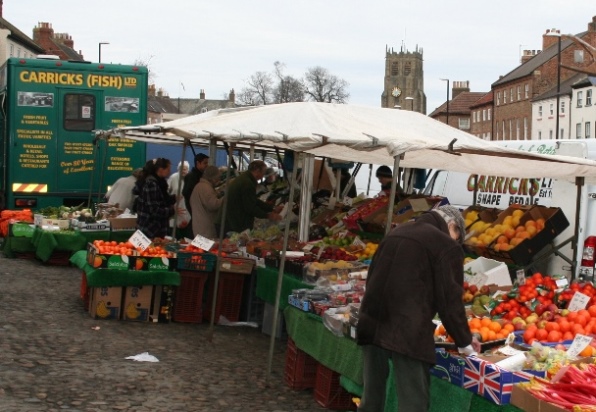 Living History
Bedale market is one of the longest running markets in Yorkshire. In 1251 King Henry III granted a Market Charter to Alan, son of Brian of the Manor of Bedale to hold a market every Tuesday and a three day fair once a year on the Feast of the Ascention (40 days after Easter Sunday). In 2006 the 1251 Market Charter was conveyed (passed on) to Bedale Town Council which is now responsible for hosting the event each week.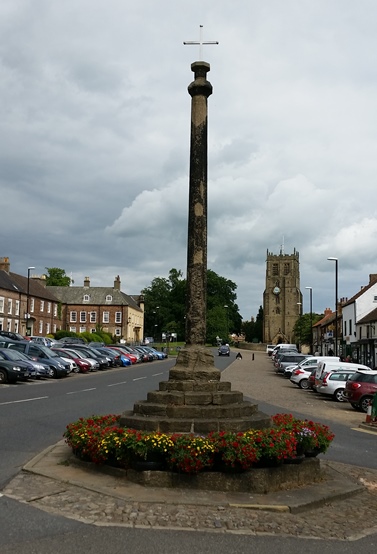 Bedale's Medieval Market Cross dates from the early14th Century.
Promoting Bedale's Market
The advent of internet shopping, discount stores and changes in the way we shop has led to a huge downturn in both market shoppers and market traders with many once thriving markets reduced to a shadow of what they once were. Bedale's Tuesday Market continues and Bedale Town Council is committed to see the town's historic market prosper.
In recent months Bedale Market has featured in a significant publicity campaign on local radio which also involved the production and circulation of thousands of leaflets (as a part of Hambleton's Vibrant Market Towns initiative). In 2017 special event markets were organised to coincide with Yorkshire Day in August and with the town's Autumn Celebrations and the success of these events is planned to be repeated this year. Bedale Town Council is also currently involved in promoting Bedale as a coach tour destination, with tour operators across the North of England being encouraged to bring coach loads of visitors to the town in the Summer months.
For a market to thrive it needs to have a good variety of produce and goods on offer and it needs a solid foundation of committed traders who are willing to turn up week-in, week-out, in sun and in rain so that locals and visitors to the town alike, can come to rely on them being there. Casual Traders, certainly have a part to play in boosting the markets appeal, and they are always welcome. However the Town Council is committed to promoting and boosting the number of Permanent Traders who are willing to commit to the market, to the town and to the market's discerning customers.
New traders, wishing to 'stand' on Bedale Tuesday Market, should in the first instance contact the Market Superintendent (for further details. The market is operated on a 'one-line' basis with a restriction on duplicate stalls (this restriction will be reviewed should the market grow significantly) and all traders are invited to commit themselves to becoming 'permanent traders'. Permanent traders are guaranteed a pitch in a set location and are charged discounted rents. They are also expected to turn up every week. It is the Council's view that permanent traders should be given precedence over casual traders as they show the greatest commitment and bring the greatest benefits to the town.
If you have not visited Bedale Tuesday Market recently may I encourage you to pop into the town and see for yourself? It's certainly worth a visit.
Special Markets
Building on the success and history of the market in the town the Town Council organises a weekly Car Boot Sale on Bedale Park every Saturday from March to October.
Special Event Markets take place at various times through the year; to Celebrate Yorkshire Day in the first week of August, an Autumn Market in October and a Christmas Festival Event Market to mark the start of the Christmas Season.